Horticulture Services & Landscape Horticulture Plantation India
We provide complete horticulture servives solutions at Four Leaf Landscape and Civiltech Pvt Ltd.We have an extensive experience at these services. We have done big and small garden horticulture projects alike. Ranging from small gardens to commercial and industrial landscaping and horticulture services spanning hundreds of acres of land.
Horticulture by definition is the art of cultivation, taking care and maintaining a garden or landscape.It is the science of growing ornamental plants, fruits, vegetables, herbs etc. Horticulture is the balance between beauty and functionality in a garden landscape area. Keeping the garden green, beautiful and functional is delicate and ongoing process. We a four leaf give all the services related to horticulture and take up the maintenance responsibility. Ranging from a small garden to large estate gardens and commercial establishments, our trained and professional staff provide all necessary horticulture services at your door step.
Four leaf landscape is one of the top landscaping company and horticulture contractors in India. We actively provide all horticulture landscaping services as per your requirement.Different sites have different horticulture needs. With the help of our horticulturists we deliver the best landscaping and horticulture services in India. We have a strong nursery network to procure the best horticulture plants and deliver the best horticulture services as per your requirements. A successful horticulture installation is a collaboration of various efforts coming together.
Here we have enumerated a few of our major landscaping plantation & horticulture services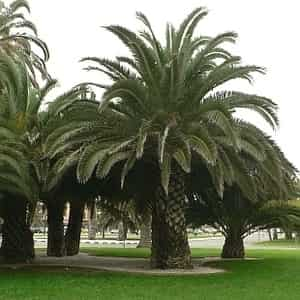 Palm Plantation Horticulture Services
Palms are at the heart of horticultural works and horticulture services in India. These are tropical plants which remain green all year round. Palms come pre grown and can be transplanted easily in derired formations of a landscape. They bring instant effect and life to the landscaping of any site.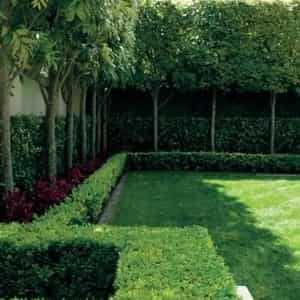 Shurb & Hedges Plantation Horticulture Services
Shurbs and Hedges are embebed in the character of landscape horticulture services. These provide definitive lines so ans to bring shape and organisation to the garden. These garden services include plantation of hedges in pre grown stages and bringing them to shape via landscape mainetnance horticulture services.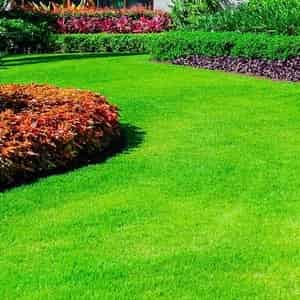 Grasses & Lawn Plantation Horticulture Services
Grasses, Ground covers and lawns are used to bring lushness to garden landscaping.These come in numerous colours and textures so as to bring colour to horticulture work.they look beautiful when used gracefully with slopes and mounds. Garden landscaping services include plantation and maintenance of lawns as well.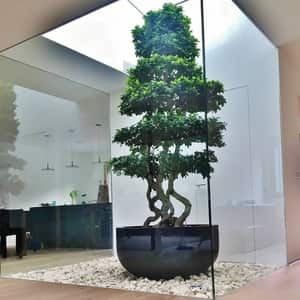 Imported trees and plant horticulture Services
Imported Plants like Old olive trees , Airroot large bonsai are used to bring the royal toch to a landscape. At four leaf landscape we provide rare premium imported plants from all over the world for our customers who want 'nothing but the best' for their properties.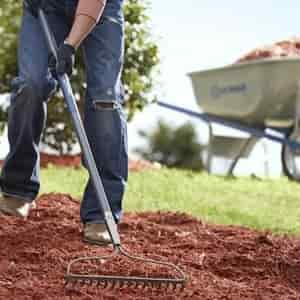 Earth & ground Preperation Horticulture Services
Earth levelling and ground preperation are the first step of horticlture landscaping services.Four leaf has all the manpower and meachinery resources to handle bigg and small projects related to horticulture and garden landscaping services in India.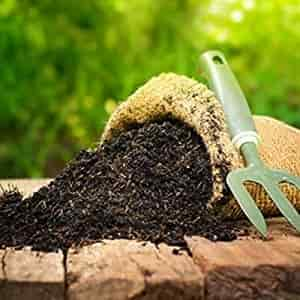 Manure & Fertilizers Horticulture Services
To show their true beauty and color plants need nourishment. This is being provided by means of manure and fertilizers. Four leaf landscape procure the best organic manures from trusted sources for all  landscaping works. Inorganic methods are also used as per requirement 
Green House & Net House Construction Services
Four leaf provides modern techniques of horticulture, with the help of team of experts, we provide Green house design and construction services. These are leading ways to grow and propogate plants under controlled conditions with excellent results. Aided with drip irrigation Green houses and net houses are the future of horticulture and farming.
Organic Farming Horticulture Services
Organic farming and organic food products are in demand. With harful chemicals used to grow our food, organic farming provides a sustainable solution for chemical free food and vegetables. Four leaf landscape provide consultancy and implementation of organic farms on a large scales. We use modern techniques to grow organic plants and vegetables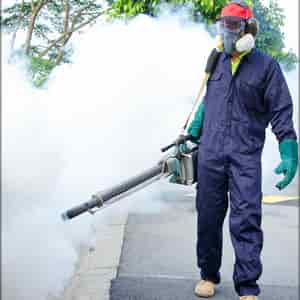 Pest control Horticulture Servives
Four leaf landscape has vast experience in weed and pest control horticulture services. We provide a scientifically designed dosage and schedule to keep your garden and farm hose free of insects and pests, These services comes bundled with our annual maintenance progams so a to provide a complete gardening services solutions and guranteed results.



B2/8 Shri sai kunj, Vasant kunj, New Delhi-110070